IN HIS STEPS: AUVERS-SUR-OISE, FRANCE

Village Scene - Auvers
This photo shows the spot where Vincent painted the village street and steps in Auvers in May/June of 1890. – Photo by Rudi Schols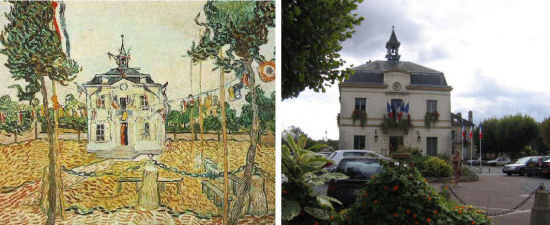 Auvers Town Hall
The Auvers Town Hall has changed very little from when it was painted by Vincent in July 1890.– Photo by Rudi Schols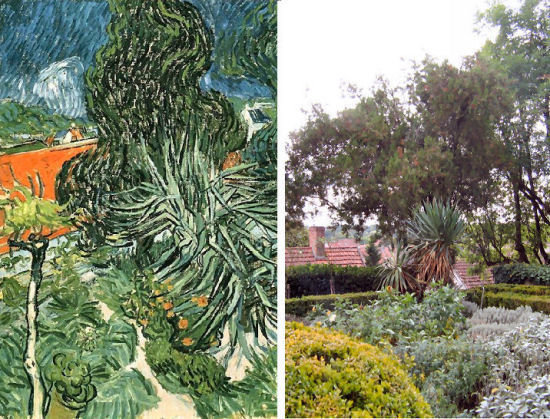 Dr. Gachet's Garden
This photo shows Dr Gachet's garden, who looked after Vincent in 1890, as it was painted in May 1890 and today. Dr Gachet's home today is a museum.– Photo by Rudi Schols
Chateau Auvers
This chateau Van Gogh painted in Landscape with the Chateau of Auvers at Sunset. Along with the Chateau and the gardens, visitors can see the multimedia tour "Voyage au Temps des Impressionistes." The Chateau also has an Iris festival during the fourth weekend in May every year.
Address: Rue de Léry
Phone: 33 (0) 1 34 48 48 40
Hours of Operation: Open daily except Mondays from 10:30 - 18:00 April – Septmeber and from 10:30 - 16:30 October - March
Cost: Adults 10,50€. Students, Children 6-18, and disabled persons 6,50€. Children 6 and under free.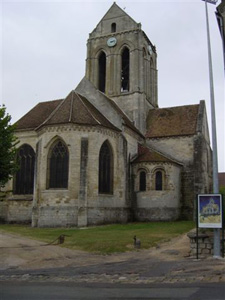 Notre Dame D'Auvers
12th-13th century Gothic church Van Gogh painted in The Church at Auvers-sur-Oise in June of 1890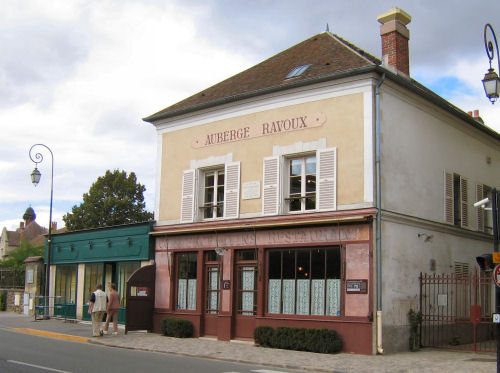 Le Maison de Van Gogh
Formerly the Ravoux Inn, this is the place where Vincent van Gogh died. In 1890 Van Gogh died in a small upstairs bedroom of this inn. This room has been preserved and is open for touring. Downstairs the restaurant still functions and serves many dishes from Van Gogh's era. Tickets may be purchased in the small building behind the inn.
This is the café Vincent stayed at while in Auvers-Sur-Oise in 1890.– Photo by Rudi Schols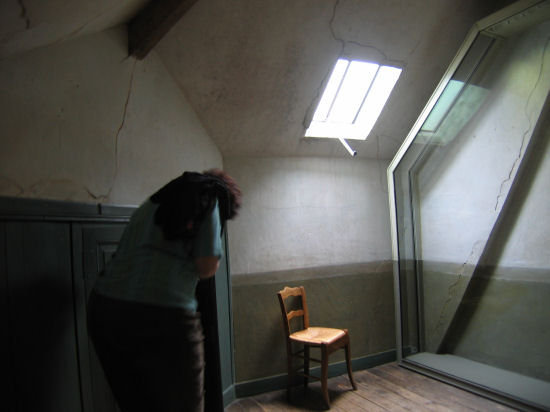 This is Vincent's room above the café Auberge Ravoux where he passed on from gun shot wounds. You can actually visit the room (for a fee of course).– Photo by Rudi Schols Address: 8 Rue de la Sansonne
Phone: 33 (0) 1 34 48 05 47
Hours of Operation: Open daily from 10:00 - 18:00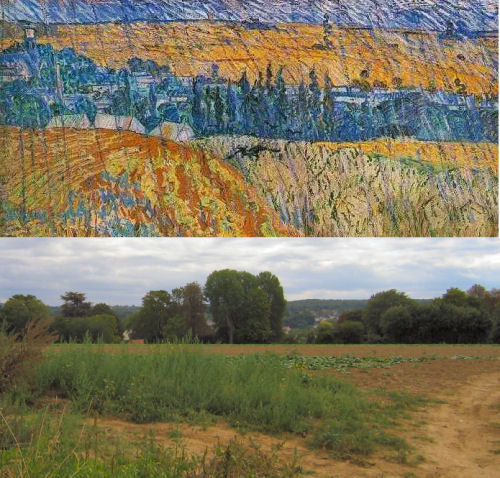 Auvers Landscape
This photo depicts a landscape at Auvers in rain and was painted in July 1890. – Photo by Rudi Schols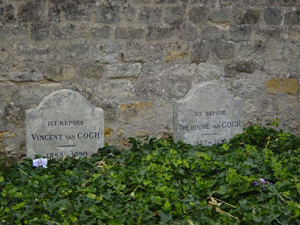 The Cemetery
Just up the hill and behind Notre Dame D'Auvers is the cemetery where both Vincent van Gogh and Theo van Gogh are buried. Both graves are together at the back of the cemetery.

A wonderful site that goes into great depth about where Van Gogh lived and traveled Van Gogh Locations
---